San Andreas 2 (Film) is released on June 9, 2017...
After
Raymond "Ray" Gaines
(
Dwayne Johnson
) rescues her, now
Blake Gaines
(
Alexandra Daddario
) will be a Los Angeles Fire Department Helicopter Rescue Pilot.
Emma Gaines
is now the Los Angeles Fire Department Helicopter Operator and the teenage boy name
Leonardo Gaines
(
Matthew Daddario
) the son of Raymond "Ray" Gaines and Emma Gaines an upcoming trip to San Antonio, TX. Meanwhile the new seismologist,
Mary Cooper
(
Kate Winslet
) and his colleague
Ray Kates
(
Matt Bush
) are at the mountains when an unknown fault nereby ruptures, triggering a massive earthquake which collapses the hills, he rescues the young girl from the valley and it's safe. After Blake called at work, Leonardo wanted to go with
Daphne Curtis
(
A.J. Cook
) to San Antonio. Mary discovers that the San Andreas fault is starting to shift, causing the massive earthquake that starts ripping apart major cities along the fault line. Leonardo and Daphne went to Sea World to have fun. Leonardo wants to choose a new friend, and he choose
Grace Angel
(
Lilly Roberson
) who was playing with her sister
Lucy Angel
(
Abby Chapman
) she watches Sesame Street concert in Sea World.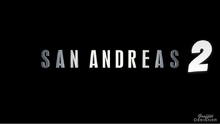 Dwayne Johnson as Raymond "Ray" Gaines
Alexandra Daddario as Blake Gaines
Matthew Daddario as Leonardo Gaines
Transcripts
Edit