Kim is a seismologist and colleague of Lawrence.
He is played by Will Yun Lee.
Kim Park

Vital statistics

Position
Seismologist
Age
Unknown
Status
Deacesed

Physical attributes

Height
5' 9"
Weight
Unknown
In San Andreas Edit
Lawrence and Kim have recently created a model that predicts earthquakes. They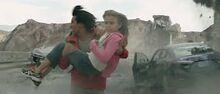 head to the Hoover Dam to test it out. However, a nearby fault ruptures, triggering a massive earthquake. While getting off the dam, Kim sees a young girl, and picks her up. While running to safety, a large crack opens up in front of him. He tosses the girl to Lawrence. He tries to get up, but sees a metal pole is shoved through his foot. The dam then collapses, and Kim dies.
"We're about to have a major quake."
"Close your eyes."
Ad blocker interference detected!
Wikia is a free-to-use site that makes money from advertising. We have a modified experience for viewers using ad blockers

Wikia is not accessible if you've made further modifications. Remove the custom ad blocker rule(s) and the page will load as expected.